Bob's Bio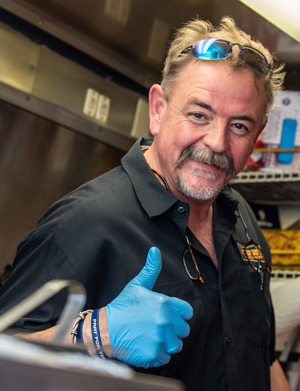 Bob Bratcher is a native Texan from his cowboy hat right down to his handmade ostrich skin cowboy boots. He began working in the food industry at the age of 15 at a fast food restaurant. By 17, his leadership skills in the business were evident as he became the youngest person to ever work in management at that restaurant. After working for five years and starting a family, Bob worked as a part-time butcher and learned to cut meat at the local grocery store. This experience led to his passion for hand-cut steaks that carries through today.
Bob created Coffee Shak Custom Cooking in 1996 and merged the company with Wildcatter Steakhouse in April 2004. He served as the Wildcatter Steakhouse Food & Beverage Manager from the time it opened in December 2004 to October 2012. Bob's latest venture, Daddy Bob's Smokewagon, is a mobile food trailer where he will primarily serve barbeque and will also offer full service catering with a variety of menu options.
When Bob is not cooking, he enjoys working with his parents at the family vineyard in Knox County, Texas and spending time with family; especially his grandson, Tucker. His latest honor has been to be nominated to serve on the Board of the Texas Restaurant Association's Education Foundation. He is grateful for the opportunity to positively influence the future of students in the food and beverage field. Bob believes in Julia Child's philosophy "The only time to eat diet food is while you're waiting for the steak to cook". Bob loves a great steak and rich food that is good for the soul and makes people around him happy.